Drill Rod Steel and Tool Steels
Standard Drill Rod Steel Grades
O-1, A-2, W-1, S-7, D-2, Tru-Cor (cold drawn flat & square drill rod)
Precision Kidd Steel is the largest manufacturer of centerless ground steel and cold drawn steel Drill Rod in the U.S. We produce and stock over 500 standard sizes in five grades of steel, with 3 foot and 12 foot lengths. We maintain a comprehensive finish stock and raw material inventory to support our sales distribution. PK utilizes Master Distributors, Catalogue Houses and Tool Steel Distributors to re-sell these products. A Master Distributor is expected to maintain a complete inventory of the standard catalog steel sizes and regularly replenish its stock for resale to other distributors or end users. Quantity pricing favors those distributors who stock the product and plan their purchases.
Standard Cold Drawn Section in Tool Steels and High Speed Steels
(Round, Hexagon, Square and Flat)
A-2, D-2, O-1, S-2, S-2 (Mod.), S-5, S-7, W-1, M-1, M-2, M-7, M-50
Special Shapes/Profiles in Premium Valued Materials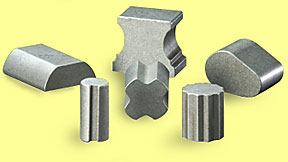 Tool Steels and High Speed Steels • A-2
• D-2 • O-1 • M-1 • M-2 • M-7 • M-50 • S-2
• S-2 Mod. • S-5 • S-7 • W-1 and Stainless
Steels 300 & 400 Series • Nitronic.
(Inquire Nickel Alloys)
Precision Kidd's Unique Capabilities Include:

Supplier alliances with tool steel and high speed steel and stainless steel melt sources.
Extensive experience in cold drawing Alloy Steel, Tool Steels, High Speed Steel and Stainless Steel into complex shapes/profiles.

Cold Drawn Steel Special Shapes / Profiles / Extrusions in Tool Steel, High Speed and Stainless Steels offer you the opportunity to significantly reduce the material costs of the yield loss that are incurred when you machine a special steel shape from a standard steel section.



*Your savings are directly proportional to the cost of the scrap you machine away, plus the added cost of tooling, manpower, and equipment wear and tear.