Custom Engineered Special Steel
Profile Shapes
We produce hundreds of custom special steel shapes for a wide variety of markets and applications. Our customers choose Precision Kidd cold drawn shapes because they save time and money and offer superior quality. We will be glad to do a free analysis of your part(s). Click Here (pdf)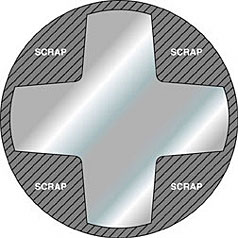 Why Cold Drawn Steel Special Profile Shapes Are Better
Dramatically reduces machining time/steel costs
Significantly reduces material loss/improves yields
Produces closer tolerances
Improves manufacturing capabilities without adding machinery/tooling
Reduces manpower/training
Enables automated production of difficult parts
Suits lean manufacturing techniques
Lowest tooling costs for precision tolerances
Enables smaller manufacturer to compete
Enables larger manufacturer to re-focus manpower/resources
Note: Special Shapes/Profiles can be made in both bar and wire products and sizes.
| | | |
| --- | --- | --- |
| Sizes: Special Steel Shapes: | Bar: from .028" to 3" thick and up to 5" wide Maximum cross section 9 sq. in. | Wire: from .028 to .750" |
Cold Drawn Steel Shapes Can Save You Manpower, Capital and Labor Costs
Cold drawn steel shapes/profiles could save you up to 75% or more on the cost of machining parts. You can eliminate machining steps and scrap loss. If you are machining "Premium Valued Material" (Tool Steel, High Speed, and Stainless Steels), the savings with special shapes/profiles can provide even more significant Yield Savings Dollars. Click the link below to see a video of how this is done.
Cold Finished Bar and Coil Drawing - YouTube
You may be able to make finished steel parts by just sawing sections of the cold drawn steel shape bar, then finish the part with little or no additional machining.
STANDARD
COLD DRAWN STEEL

ROUND
STANDARD
COLD DRAWN STEEL RECTANLE
STANDARD
COLD DRAWN STEEL SQUARE
Machining Scrap Loss for Standard Cold Drawn Steel section.